Daily Human Care has the best Pink face masks for you; these face masks are disposable and protect you from viruses and bacteria. They are made up of three layers, each of which provides better security and safety. They have a nose clip that goes over your nose and prevents your glasses from fogging up. They have high-elastic ear loops to prevent pain from long-term use. Because of the non-woven fabric consistency, they are both comfortable and soft on the skin. Any of these are available for purchase on our website.
Although no one person or country can ever be fully prepared for a pandemic, there are steps we can take to make the best of a bad situation. COVID-19 has turned out to be an unusual strain of the virus, resulting in economic collapse and causing the majority of people to stay indoors and away from other people. In our increasingly connected modern world, we can all have cravings for human interaction outside of a machine. On Daily Human Care, you'll find the best pink face masks.
What color should my face mask be?
When using a medical mask, follow these instructions:
Regardless of the color, If you're sick and don't want to spread the germs, keep the coloured side out. When you're not sick and want to keep germs out, turn the white side out (this is the filter part).
View Our Products :
| Image | Product | Feature | Price |
| --- | --- | --- | --- |
| Best Pick | 3-Ply Disposable Face Mask | Non-woven 3-Ply Disposable Face Mask are made from spun bond polymer non-woven fabric. | Buy Now |
| KN95 | KN95 Respiratory Mask | KN95 Respiratory Mask consist of 5 layers, outer non-woven layer second high efficacy… | Buy Now |
| For Kids | Kids 3-Ply Disposable Face Mask | Non-woven Kids 3-Ply Disposable Face Mask are made from spun bond polymer… | Buy Now |
| Best for Kids | Pink Kitten Disposable Face Mask for Kids | 3-Ply Non-woven Multi-Designs Disposable Face Mask for Kids are made from spun bond… | Buy Now |
| Value Product | Cotton Washable Face Mask | Cotton Washable Face Mask are breathable dust-proof face masks reusable anti-pollution … | Buy Now |
How is your pink face masks medical supposed to be worn?
When applying a face mask, wash your hands with soap and warm water, or sanitize your hands.
Pull the mask from the packet, making sure there are no holes or tears.
Make sure you know which side of the mask is on the edge and which side is on the face so you can put it on correctly.
Earloop masks: hold masks from earloops and wear them with the help of earloops and place them on each ear.
With a mask on, cover the mouth and chin.
How Long Can I Wear a Pink Face Mask?
While there are no hard and fast rules for how long you can wear a mask, if you expect to be without one for several days, make sure you can wash and clean it (or have several masks). This is especially true if you have to fly around the country or to a location where supplies are scarce. If you plan ahead of time, you won't have any trouble finding a clean, safe mask when you need it.
How To Wash Pink Face Masks?
Despite the fact that it appears that you need to bleach or otherwise sterilise your mask, the CDC recommends washing it in a washing machine with normal detergent and soap. If you must go out in public, wash your mask every day because sweat, oil, and dirt can build up, causing acne and reducing the mask's protective qualities. Cleaning your mask after each use is the ultimate "better safe than sorry" reason for keeping things clean.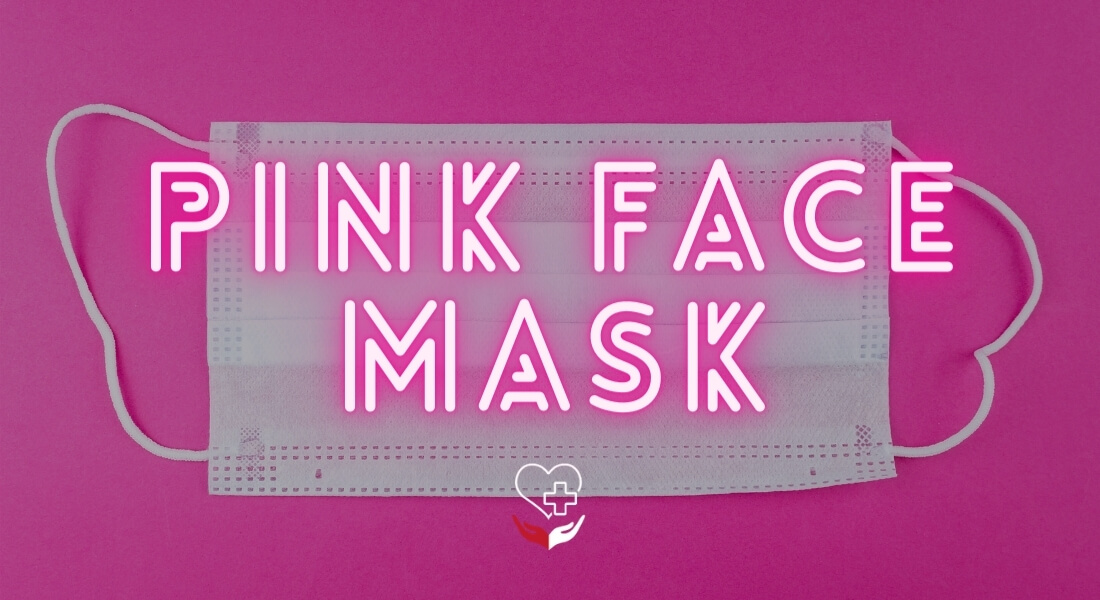 Other Things to Think About When Wearing a Mask
And just because you've won your own mask doesn't mean you shouldn't pay attention to grooming. Try to wash your hands at least once a day and keep a six-foot distance between you and other people. If people are congregating in one aisle of the grocery store, move to another aisle and move out of the way if anyone runs past you. To stay safe and protected throughout this difficult time, it's a matter of keeping clean and being careful when it comes to being around others.
With masks be safe and be protected.