Daily Human Care has the best Pink face masks medical and surgical use; these disposable face masks shield you from viruses and bacteria. They consist of multiple layers, each of which enhances protection and safety. They come with a nose clip that fits over your nose to prevent your glasses from fogging up. To avoid discomfort from long-term use, they have high-elastic ear loops. They are comfortable and smooth on the skin because of the non-woven fabric consistency. These are available for purchase on our website.
While no single person or country can ever be completely prepared for a pandemic, there are steps we can take to make our best to prevent being in this bad situation. COVID-19 has proven to be an unusual strain of the virus, causing economic collapse and forcing the majority of people to stay indoors and away from others. We can all have cravings for human interaction outside of a machine in our increasingly connected modern world
Let's talk shortly about Covid-19 before moving to best pink face masks medical and surgical.
What are the signs of the new coronavirus infection (COVID-19)?
If you have these symptoms, you can use a variety of antiviral face masks. If you have these signs or a combination of them, you could have coronavirus, according to the CDC:
Fever or chills.
Breathing more hardly or more forcefully.
Aches and pains in the muscles. smell and taste loss
Congestion or a runny nose.
Check Our Pink Collection :
| Image | Product | Feature | Price |
| --- | --- | --- | --- |
| Best Pick | 3-Ply Disposable Face Mask | Non-woven 3-Ply Disposable Face Mask are made from spun bond polymer non-woven fabric. | Buy Now |
| KN95 | KN95 Respiratory Mask | KN95 Respiratory Mask consist of 5 layers, outer non-woven layer second high efficacy… | Buy Now |
| For Kids | Kids 3-Ply Disposable Face Mask | Non-woven Kids 3-Ply Disposable Face Mask are made from spun bond polymer… | Buy Now |
| Best for Kids | Pink Kitten Disposable Face Mask for Kids | 3-Ply Non-woven Multi-Designs Disposable Face Mask for Kids are made from spun bond… | Buy Now |
| Value Product | Cotton Washable Face Mask | Cotton Washable Face Mask are breathable dust-proof face masks reusable anti-pollution … | Buy Now |
Check more Pink face masks medical and surgical use : https://dailyhumancare.com/product-category/face-mask/disposable/kids/ 
A Free Advice for Health Care Providers
The best advice for health care providers to remain safe until everything about COVID-19 is fully understood:
Maintain a six-foot distance from others as far as possible.
Cover the mouth and nose with a face mask.
Take a long time to wash your face. When soap isn't available, use a manual sanitizer that contains at least 60% alcohol.
Indoor crowding should be stopped. Bring in as much fresh air as possible.
It's better to stay alone at home if your corona test report is positive
Clean or disinfect often handled surfaces.
How is your pink face masks medical or surgical supposed to be worn?
Hands should be washed with soap and warm water or sanitised before applying a face mask.
Remove the mask from the package and inspect it for any gaps or tears.
To put the mask on correctly, make sure you know which side is on the edge and which side is on the chest.
Earloop masks: take masks from earloops and position them on each ear with the aid of earloops.
Cover the mouth and chin with a mask.
Can I Wear Pink Face Masks medical or surgical for a Long Time?
While there are no hard and fast guidelines on how long you can wear a medical or surgical pink face mask, if you plan to be without one for several days, make sure you can wash and clean it (or have several masks). This is particularly valid if you need to travel around the country or to a remote area with minimal supplies. You won't have any trouble finding a clean, secure mask when you need it if you prepare ahead of time.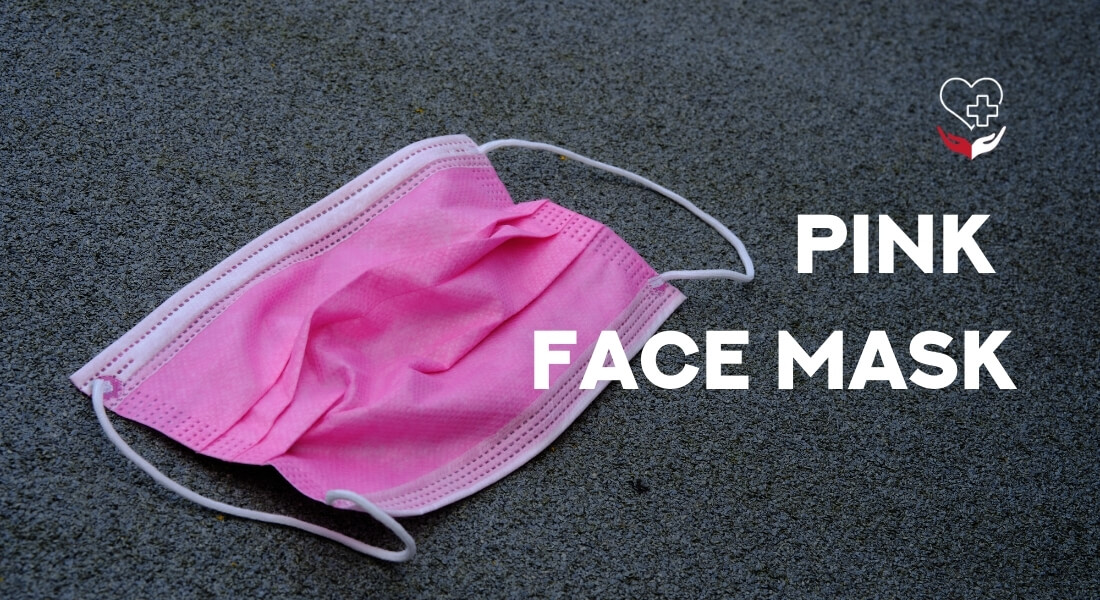 How To Wash a Pink Face Mask?
CDC suggests washing the pink face mask medical or surgical both, in a washing machine with regular detergent and soap, despite the fact that it seems that it has to be bleached or otherwise sterilised. If you have to go out in public, wash your mask every day because sweat, oil, and dirt will build up and trigger acne while also reducing the mask's protective qualities. The ultimate "better safe than sorry" justification for keeping things clean is to clean your mask after use.
Some Considerations When Wearing a Mask
And just because you wore your own mask doesn't mean you shouldn't care about your appearance. Wash your hands at least once a day and maintain a six-foot separation from other people. Move to another aisle if people are congregating in one, and move out of the way if anyone runs past you. It's a matter of keeping clean and being cautious when it comes to being around others to stay safe and protected during this difficult time.