Daily human Care is providing the best black face masks, While no one individual or nation could ever be properly trained for a pandemic, there are measures we can take to make the best of a bad situation. COVID-19 has proved to be a rare strain of the virus, causing economic collapse and forcing the majority of people to live indoors and away from other people.
We can all have cravings for human contact outside of a computer in our highly linked modern world, and we also need groceries and other household necessities. When this happens, it's essential to know what precautions to take and what black face masks to wear to protect yourself and everyone else you might come into contact with when venturing out into the world. The best black face masks are available on Daily Human Care.
Why is Black Face Masks in Style?
Black face masks are more versatile in terms of appearance, as well as the health benefits of wearing them out in public. As the demand for face masks grows in cities and across the world, more companies are developing goods that cater to a wide range of customer preferences. We want a little elegance for our prevention, and by doing so, we're able to build a market where people can buy the personal protective equipment they need, such as kids' face masks, in a safer and less expensive way.
Check Our Black Face Masks Collection : 
| Image | Product | Feature | Price |
| --- | --- | --- | --- |
| Hot Selling | 3-Ply Disposable Face Mask | Non-woven 3-Ply Disposable Face Mask are made from spun bond polymer non-woven fabric. | Buy Now |
| Cool Product | Batman Disposable Face Mask | Batman Disposable Face Mask are made from spun bond polymer non-woven fabric. | Buy Now |
| For Kids | Kids 3-Ply Disposable Face Mask | Non-woven Kids 3-Ply Disposable Face Mask are made from spun bond polymer non-woven fabric | Buy Now |
| | Cotton Washable Face Mask | Cotton Washable Face Mask are breathable dust-proof face masks reusable anti-pollution … | Buy Now |
| New Arrivals | Printed Washable Face Mask | Printed Washable Face Mask are 5 layered Face Masks made up of 1 layer of activated …. | Buy Now |
| Our Pick | KN95 Respiratory Mask | KN95 Respiratory Mask consist of 5 layers, outer non-woven layer second high efficacy … | Buy Now |
| | PM 2.5 Masks Filters | PM2.5 Mask Filters Anti Haze Mouth Face Mask Pad, Anti Dust Mask with 5 layers… | Buy Now |
Wearing black disposable face masks:
Mask-wearing has become and will be a part of our daily lives for the coming years. Some people may also consider this to be a part of their ensemble. Although there is no shortage of reusable and disposable face masks, finding a decent black face mask has proved difficult. The explosion of mask vendors has ushered in a slew of substandard goods. We'll show you how to spot an excellent disposable black face mask and which choice is better for you.
What Is Out There?
Only searching for black disposable black face masks on Google yields over 76,400,000 results. A closer examination of Google Trends reveals a gradual rise in interest in black surgical face masks. There is a fire if there is smoke.
Manufacturers and sellers of face masks have turned their attention to making black face masks as a result of the increased interest in them. Historically, these surgical face masks were only used in medical and dental environments, where the light hue, such as blue or white, made it easy to see how much fluid had made its way into the mask.
The fluid on the outside of the mask served as a reminder to medical personnel that it was time to replace their disposable masks. As a result of this and the higher cost of darker dyes, black surgical masks have never been commonly manufactured or sold. Severe fluid exposure, on the other hand, is not a hazard for the general public. People wanted a surgical mask that looked "cooler" and offered protection without sacrificing style.
What is the Best Fabric for a black Face Mask?
For public use face masks, any form of cotton cloth should suffice. You can also make a homemade version in a punch with a t-shirt. It's worth noting that the CDC recommends wearing a mask with several layers to prevent droplets from spreading during inhalation and exhalation. While thicker material can tend to be stronger, it can also be more painful, heat up faster, and make you less likely to wear it. It's evident that you'll need to find or produce a cloth mask that you'll feel secure wearing in public or for more extended periods of time if appropriate.
How Long Can I Wear a Black Face Mask?
Although there are no hard and fast rules for how long you can wear a mask, it's a good idea to make sure you can wash and clean it (or have several masks) if you plan to be without one for several days. This is particularly true if you have to travel across the country or anywhere else where getting supplies would be more difficult. You won't have any issues getting a clean, secure mask available when you need it the most if you prepare ahead.
Differences Between Reusable Masks
If you have access to reusable masks that you can buy at a store, make sure they're made of a material that can be easily cleaned or washed, rather than one that won't dissolve in water or break down when cleaned with soap. Because of the occasional problems with delivery and cloth mask supply, you may want to consider making your own masks out of things like t-shirts to save money and time.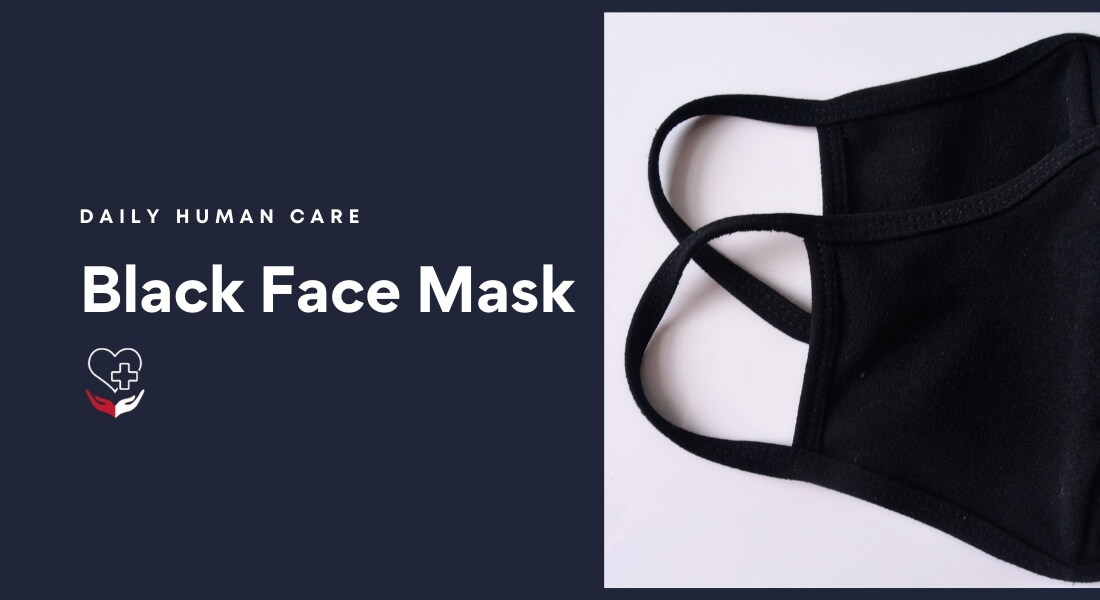 How To Wash a Black Face Mask?
Despite the fact that it might appear that you need to bleach or otherwise sterilize your mask, the CDC recommends that you can easily wash it in a washing machine with regular detergent and soap. If you need to go out in public, wash your mask every day because sweat, oil, and dirt will accumulate and cause acne and the mask's protective qualities. Cleaning your mask after each use is the ideal "better be safe than sorry" justification for keeping things clean.
Other Things to Think About When Wearing a Mask
And if you've actually earned your own mask, that doesn't mean you should neglect those grooming considerations. Try to wash your hands periodically and keep a space of at least six feet between you and other people. If people are congregating in one aisle of the grocery store, switch to another aisle, and get out of the way if anyone comes barreling through to get by you. It's a matter of keeping clean and being cautious when it comes to being around others during this trying period to remain safe and secure.
View more variety product collection at shop page.